Casey Anthony has recently been rumored to be held up on a church compound in Florida, about two hours outside of Orlando. That's some pretty creepy stuff, guys. As if someone who is already emotionally disturbed needs to be living on such a place as a "compound." Anyway, that is no longer the case, because it appears that Casey is now in a mental health facility—i.e. a nuthouse, a loonybin, the cukoo nest.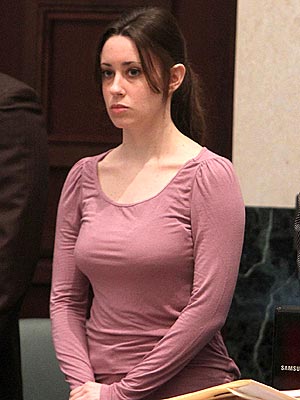 Cheney Mason, replacing Jose Baez who just recently quit, says that Casey Anthony is currently residing in a mental health facility that is funded by taxpayer money. So there you have, she's basically continuing to cost no-telling how much. Her trial rested upon the shoulders of taxpayers, as a burden that further stiffened the blow of the current economy. Now she's living pretty much without having to spend anything, courtesy of your tax dollars.
Maybe her life is the true American dream?
So what does "mine" mean, when Casey Anthony says it?
After studying her alleged video diary "leaks," a dim bulb brightened. Eureka! Watch the following video clip and pay attention to the levels of her voice. When she stresses that things now belong to her. When she says it's the first time in a long time that something has been hers, her voice has a sort of inflection, indicating a change in emotion. Certainly, she could be referring to the three years she spent in jail, and now being free to have her own belongings. But her expression takes on such a wistful tone that it's difficult to believe that it's that simple.
Perhaps she is referring to Caylee, the daughter that many people still believe she murdered. Throughout various details that surfaced while Caylee Anthony was missing, it was apparent that there was a sort of power struggle between Casey and her mother. There were reports of Casey Anthony being jealous over the attention her toddler garnered, even during the investigation into her disappearance. Could it be that she never felt like Caylee was "hers?"
Chelsea Hoffman is a prolific crime writer and fiction author with several works published. Her writing has been recognized by such entities as NBC Dateline and several others. Contact her directly by visiting ChelseaHoffman.Com.Or check out "Case to Case" on BlogTalkRadioevery Friday night at 9:00pm(PST)