The search for Ayla Reynolds is costing taxpayers in Maine a bundle, as it's reported to potentially top out at $500,000.00! That's even more than the total costs of the Casey Anthony trial in Florida, so it's apparent that authorities have definitely exhausted themselves in this case. So why hasn't the two-year-old tot been found?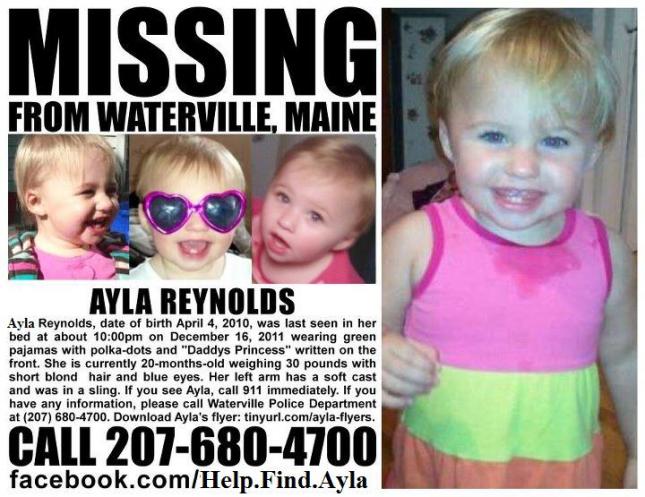 There haven't been any actual case updates in the disappearance of Ayla Reynolds, which is a shame because this case has gripped the nation since day one. However, knowing just how much this case is costing the state of Maine is absolutely infuriating. That's because Steve McCausland of the MSP has publicly acknowledged at least twice that Justin DiPietro, his family and his girlfriend are not being truthful about the night Ayla disappeared. The adults who were in the DiPietro home that night all maintain that the tot vanished by abduction, but police believe that this is not true. There is forensic evidence contradicting their stories, including blood belonging to the child found in the basement of the home.
So, knowing that this case is probably going to cost the state a half a million dollars just adds to the negative elements hovering over it. If it's true that Justin DiPietro isn't being truthful then if that's proven somehow he should be responsible for this cost. Until then, it seems that the state simply has to swallow those costs as the investigation into this child's disappearance continues.
Crime analyst and profiler Chelsea Hoffman can be found on The Huffington Post, Chelsea Hoffman: Case to Case and many other outlets. Follow @TheRealChelseaH on Twitter or click here to contact Chelsea directly.