In a frightening bombshell, audio of Malik Zulu Shabazz, the Chairman of The New Black Panther Party went on a terrifying rant about the upcoming election, Barack Obama, Republican's the Tea Party and much more. Why should this be concerning to people of all races? Because it threatens American's and nothing will be done about it. During the 2008 election, members of the Black Panthers openly threatened voters and the Attorney General, Eric Holder, chose not to prosecute and called it a 'made up controversy'.
Some of the statements made by Shabazz:
'White males, conservatives, Republicans, Tea Party and gun-toters ...don't believe that they should be ruled over by black people'
Michelle Obama 'just crushes these white women' with her superior beauty. 'That just burns a racist up.'
'And they're going to cling to their God and their guns. We might have to, too. We gotta get ready fast, sisters and brothers.'
'I'm here to tell every black person on this line that the white man cannot stop you. Cannot stop us.'
Shabazz says that the Black Panthers will play a 'great roll' in the election. What role will that be exactly? Intimidating voters into voting for President Obama again? He claimed, "I'm telling you that these 60% of white people who are against Barack Obama are going to be very, very, very angry come November when they lose again because the white ego and the white male ego."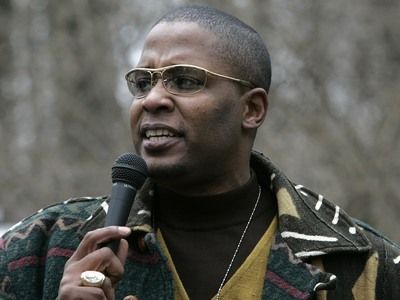 It is incredible how Shabazz makes everything racist. Malik Zulu Shabazz is racist against white people and Jews, he's made that very clear. What about blacks that vote against Obama? Are they racists to Shabazz? They are called 'Uncle Tom' and worse. Many people on the right believe that the administration is attempting to start a race war to sway the election or even to stop the election from happening. No matter what happens, in this time of elevated anger, all American's need to commit to non-violence and be vigilant in protecting their families from hate-rhetoric on both sides. Will the president denounce the words of The New Black Panthers? Should he even have to?
Photo: Facebook
© Margie Wilson-Mars 2012