A very disturbing 'baby beating' video recently posted on YouTube has gone viral. The story behind the video is equally disturbing and leaves viewers riddled with questions. The most pressing question is about the condition of the child. Thankfully, she is safe in foster care and reports say she is doing 'very well'. More shocking news, the mother is serving an incredibly short prison sentence and may be able to pursue custody of the baby girl when she gets out!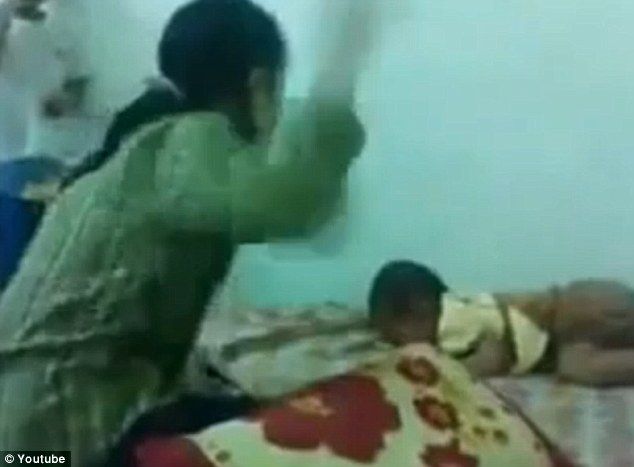 The video was actually filmed in May 2011 in Petaling Jaya, a suburb of Kuala Lumpur in Malaysia by a friend who had previously seen the 18-year-old mother beat the baby. This time, she filmed it on her cellphone so she could give it to the police. Sadly, there's another child seen in the video, watching the beating. Posters on YouTube are all asking how someone could stand by and allow this to happen? Obviously, taking the video to the police was the right thing to do, but it had happened before. How can someone just stand there and not help the baby? Perhaps the person was fearful of the mother as well?
The mother is seen striking, pinching, pushing and kicking the 10-month-old baby girl. In a heartbreaking move, she crawls over to her mother and tries to lay down on her knee, maybe in an effort to stop the beating, and the woman shoves her off of her, onto her back while the girl screams and the baby beating continues. At another point, she tries to reach out for her mother only to have her hand slapped away. The baby's actions are actually common among abused children, even some adults. They try to please the abuser. For some social workers and others who work on abuse cases, it can make detection of abuse even more difficult than it already is because the child acts so loving towards the abuser. The baby seems to just give up at one point, just laying down and accepting her horrific fate.
The police chief in Petaling Jaya said that the mother was convicted of child abuse and is halfway through her 18-month-long sentence. 18-months? Just outrageous! Even more outrageous is that when she gets out in late November, she can try to regain custody! The police department claims they have no idea how the video was released or who leaked it. Right now, the video has just over $1.5 million views and has an age-restriction by YouTube.

PHOTO: YouTube Screenshot
© Margie Wilson-Mars 2012