A vigil for missing student Mickey Shunick attracted at least 500 people on Wednesday but the anthropology major still remains to be found. She was last seen late night Friday, early morning Saturday, on her bicycle, but has not been seen since. Could she have been abducted by a random predator or did something happen to her by the hands of someone she knows and trusts? There is also the possibility that the missing coed vanished on her own free will, though it is absolutely not in her character as far as her family acknowledges.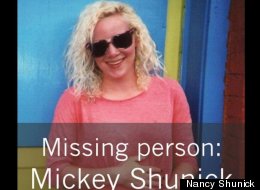 The FBI and LSP have joined in the investigation into the whereabouts of Mickey Shunick (aka Michaela Shunick), but what has been done so far in regards to finding her? It's actually comforting to know that the FBI have stepped in because the abilities of the Louisiana State Police aren't exactly stellar. Keep in mind that there are quite a few unsolved missing women cases in the state of Louisiana that don't appear to have been investigated very deeply. One case in particular is the disappearance of Dorothy Rosier -- and there are many more.
Have investigators checked surveillance footage in the area near where she was last seen? Have they adequately questioned the people who last saw her? Did she have any former lovers or scorned boyfriends? Was she in any competition with friends or other enemies?
There are so many questions to be asked but it is unknown if police have gotten down to any of this, as it hasn't made it to the headlines. Did this young woman have a drug problem? Any history of violence on her own behalf? Did she run with a bad crowd? Given the fact that she was an anthropology major who taught children how to ride horses in her spare time, it's probably safe to say that this woman didn't lead a risqué lifestyle. However, there is always the possibility.
Hopefully more answers come out in this case, and hopefully she is found before the deep investigation is even needed.
Crime analyst and profiler Chelsea Hoffman can be found on The Huffington Post, Chelsea Hoffman: Case to Case and many other outlets. Follow @TheRealChelseaH on Twitter or click here to contact Chelsea directly.