This story sounds like it belongs on 'Deadliest Catch.' An Illinois fisherman got the surprise of his life when he reeled in a fish with teeth: it was a pacu fish. The fisherman in Lake Lou Yeager originally thought he'd caught a piranha, but it fortunately turned out not to be the case.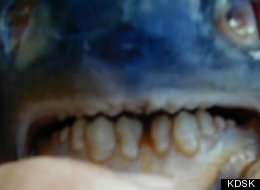 The weird fish has human-like teeth, and although scientists say it poses no threat to humans, a few folks in New Guinea have a different story. The species normally eats nuts, aquatic vegetation and snails but British fisherman Jeremy Wade told local news reporters that when he visited the island nation, the residents called the fish a "ball cutter" because several men bled to death after having their testicles bitten off by the fish.
What's more, another pacu was caught a few weeks later after the original one was. How many of these fish are now inhabiting the lake, and do they really pose a threat to humans?
The pacu fish probably got into the lake after they were dumped there by folks who decided they didn't want to own them anymore. It's against the law in the state of Illinois to contaminate the lake with invasive species, and whomever dumped these toothy ball biters either has a twisted sense of humor, or is just plain stupid.