Justin Crawford of Twin Falls, Idaho, allegedly solicited men on Craigslist to rape his unsuspecting wife. The 32-year-old man admitted this vile crime to the police after the ad was traced to the Army National Guard where he was working at the time of the report. Unfortunately, the ad wasn't reported until at least two men attempted to sexually assault his wife. This horrific case is just mind-boggling. How could a man do this to any woman, much less the woman he professes his undying love for in the form of marriage vows?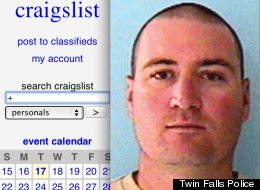 Last week at least two men, at separate times, broke into the home of the unidentified wife of Justin Crawford while she was home alone. Each man who broke into the home attempted to rape the woman, even causing her to sustain injuries during one of the attacks. It's lucky that she had a 9MM pistol in her possession, because it certainly came in handy. The first man who attacked her got away after she fired shots during a struggle of him trying to disarm her. She was more assertive later when another man attempted to break into her home. She held him at gunpoint until police arrived and arrested him.
Crawford admitted to this horrific crime, and while he wasn't the one committing the attempted rapes, he is more responsible for this than the men who tried to go through with the act. You see, he posted the advertisement as though the woman had a rape fetish fantasy. As far as these men knew, presumably, the struggle was a game she was playing—a very kinky sex game. They were responding to a "casual encounters" ad on the popular site Craigslist, which has been under scrutiny for several years regarding the blatant prostitution that occurs on it. He posted as his wife, asking men to come to her home and rape her. What a sick freaking pig he is!
He is being held at the Twin Falls County Jail on $100,000.00 bond, but to be honest, he deserves far more than this. He was a conspirator and a passive rapist at that, and his victim was a woman who was supposed to trust him. Well hopefully a divorce is in his future as well as prison boyfriend who won't take "no" for an answer.
Crime analyst and profiler Chelsea Hoffman can be found on The Huffington Post, Chelsea Hoffman: Case to Case and many other outlets. Follow @TheRealChelseaH on Twitter or click here to contact Chelsea directly.