A 19-year-old man stepped up when he saw a young mother and her children in danger the night of the Batman premier theater shooting in Aurora, Colorado. Jarell Brooks is by all accounts a hero, but he doesn't want you to think of him that way. However, he very possibly saved three lives early Friday morning, and for that, he deserves the highest praise one can get.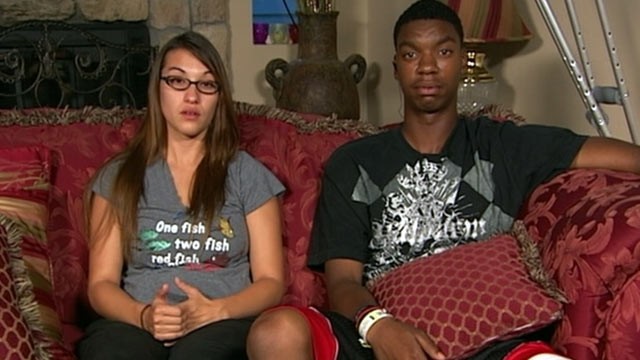 Brooks and Patricia Legarreta, the woman whose life he saved, reunited on Good Morning America yesterday to talk about their experiences. Legarreta said she doesn't remember everything that happened but is aware that without Brooks, she and her children would not be alive today.
Brooks said that he didn't know that James Eagan Holmes had entered the theater until he saw and heard the gunshots because he was just six rows from back of the theater. He obviously didn't realize that Legarreta's boyfriend (now fiancé), Jamie Rohrs, had run out after leaving four-month-old Ethan on the floor after panicking. All he saw during the chaos and the smoke was a woman struggling to get her scared children out of harm's way.
Legarreta's four-year-old daughter, Azeria, was asleep when the shooting began, so when she woke up, she was disoriented. She fell in the process of trying to escape because of that, and Legarreta described tearfully how she did what she could to get her out. "Just blocking her, shoving her, just making sure she's not getting hurt," she said, obviously distraught and shaken at the thought of how close she came to losing her children that night.
Brooks was on his way out the door and was at the end of the aisle when he saw her. "My kids!" she yelled, and the teenager knew what he had to do.
"My goal was to get this family out, without getting hit myself. I managed to do one." Both he and Legarreta were hit by the gunman's bullets.
Meanwhile, Jamie Rohrs, Legarretas' boyfriend, was nowhere to be found. He fled the scene after hiding the baby under a seat near his girlfriend after jumping over the balcony and running around. He told TV cameras that when Ethan began crying, his first thought was that the gunman would come and get him, so he put his child on the floor and left the three people he loves the most to be saved by a total and complete stranger.
Jarell Brooks is a true hero. He did the right thing, risked his life to save someone else's and he should be commended for it. Like all of the victims, he is struggling with the reality of what happened and how close he came to dying that night.
"I'm not the kind of person who would let them be in that situation and me selfishly trying to get myself out of the equation," he told TV reporters, "All she's trying to do is protect her kids, so I felt like if I could get her out, then maybe, I would have gotten out maybe I wouldn't, as long as I knew she was OK I was alright."
Her boyfriend had jumped in a car after fleeing the chaos, supposedly to drive back there to pick them up to take them to the hospital, according to a person named Jesse Rohrs, who identified himself as his brother. However, that story simply doesn't wash because Rohrs had left the building before she got injured. In one comment on a previous story, Jesse said, "He went to get the truck to take her to the hospital."
The question here is, why leave her side to begin with? Why leave his family to go running outside to get the truck if she wasn't even injured at the time he left? She did not become injured until Brooks had come to her aid and both got hit near the door.
In the heat of the moment, Patricia Legarreta depended on a total stranger to save her life during a fatal theater shooting, and not the man she now intends to marry.
Jarell Brooks, the world commends you for your selfless bravery.
©2012
Reno Berkeley
for Gather News.
Join my RSS Feed: Articles by Reno Berkeley