As accused Aurora shooter James Holmes sat in court, his brightly colored orange hair stood out against his maroon jumpsuit like a During the proceeding, known as an advisement, he sat quietly, no speaking a word, and barely moving. His eyes at times trailed downward, lip quivering and eyebrows raised. At other times, his eyes looked straight ahead, as though looking through the judge who sat before him on the bench.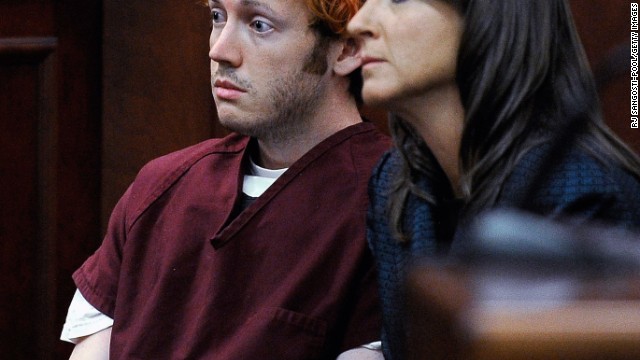 His humanity, it seemed, was inwardly battling with hidden demons. For the most part, though, he appeared as if in a trance, not quite fully aware of the severity of what was transpiring as the judge made him aware of his rights under Colorado law.
None of this is any consolation to the families of the victims in the worst shooting in Colorado since Columbine. The fact that Holmes is not cooperating with the investigation certainly doesn't help matters, either, but it is his right to stay silent. Currently, Holmes is being represented by a public defender. During the proceeding, she sat quietly, speaking only when she needed to. There appeared to be little to no communication between the two while they sat together in court. Holmes will be formally charged on July 30, and it's widely expected that prosecutors will ask for the death penalty, since District Attorney Carol Chambers has told the Associated Press that her office is seriously considering it.
Authorities have been stingy with details about the case; a smart move in a case that has the nation on the edge of its seat. All that's been said so far has come from Aurora Police Chief Daniel Oates, who said that the evidence points to "calculation and deliberation."
The suspect purchased thousands of rounds of ammunition online with no red flags tripped and purchased four guns in a very short time frame with no waiting period or background checks. The case has reignited the debate about gun laws and whether tighter gun laws should go into effect. Colorado's governor John Hickenlooper said that tighter gun laws are not the answer, but that seems a weak argument when you examine the ease with which James Holmes acquired his arsenal.
Up until 2004, the AR-15 would have been illegal for Holmes to purchase due to a federal ban on semiautomatic weapons. However, the government allowed that ban to expire, bowing to the will of the NRA. Perhaps the Aurora shooting will provide the impetus to make these guns and the bullets they illegal for civilians outside the military and police to own again.
As for the victims, they continue to mourn. The grieving process begins, as they await justice for the man who methodically and brutally killed their loved ones.
©2012 Reno Berkeley for Gather News. Berkeley can be found on Tumblr, Google+, and Facebook.