Heather Collins, mother of missing 9-year-old Iowa girl, Elizabeth Collins, has been driving to Iowa's State Fair in Des Moines every day, manning the booth dedicated to her daughter and her 10-year-old niece, Lyric Cook-Morrissey. She's working hard to get the word out about the girls, despite having a serious heart condition. "I pray every morning and all through the day, just, 'Lord, give me strength to keep going and keep moving on,'" said Collins.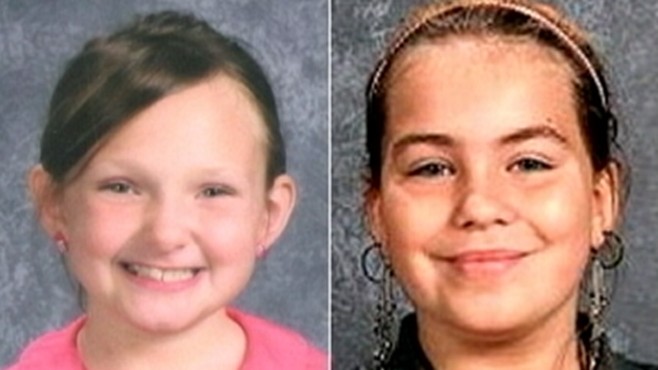 She has been joined by another mother who has suffered the same tragedy. Noreen Gosch, the mother of Johnny Gosch, the Des Moines paperboy who disappeared in 1982, joined Collins Wednesday at the booth at the fair. Johnny has never been located, but his mother claims he visited her in 1997, after escaping from his captors, telling her he must remain in hiding under an assumed identity to protect himself from the human trafficking ring that abducted him. This has never been confirmed.
Lyric and Elizabeth left their grandmother's house around noon on July 13th and haven't been seen since. Their bikes were found near Meyers Lake in Evansdale, Iowa. Authorities believe they are alive, but aren't providing any information as to what substantiates this belief. Hopefully, they are right.
Speculation about the girls has been rampant. Some members of their family have somewhat unsavory backgrounds, with drug and assault charges flowing freely. Lyric's father is due back in court later this month, after being granted a continuance to look for his daughter and niece. It's been suggested that other drug dealers have taken the girls to insure Dan Morrissey keeps certain information to himself. It has also been implied that the girl's uncle, Jeremiah Cook, who suffered a drug overdose shortly after the girls disappeared, may have had something to do with their disappearance. Human trafficking, registered sex offenders, and family member abduction have also been suggested.
Surely, the girls' parents want to know what's happening to them, but it's more important that the girls are returned home soon. The rest will fall into place.
There is a box at the fair to give anonymous tips. There is also a $50,000 reward offered for information leading to the girls' whereabouts. If you have seen them, or know anything, please speak up. Lack of new information has media attention drifting. Nobody wants these girls to disappear into the sea of missing children that have never been found, like Johnny Gosch or Jill Cutshall.