Photographer Gerald Herbert was among the 15 to 20 motorist who stopped to give aid to a burning vehicle in a stand of pine trees along southern Mississippi's Interstate 10. Giovanna Demonte and her sister, Felicidad Demonte became trapped inside their burning car when it crashed into a tree. Giovanna overcompensated causing her to cross the median and crash into the tree line.
People flagged motorist for anything to extinguish the flames, including water bottles. "No one had fire extinguishers," Herbert said. "We were all sure she was going to perish. The sounds of her screams and the sight of the fire inching closer to her, that was the most horrible and helpless feeling I've ever felt in my life."
They pulled the disabled passenger in the back seat out after breaking the windows. The driver was proving a more daunting task. A man used his pick-up truck to try to pull the burning car out of the valley.
The trapped driver was screaming at the top of her lungs. "I kept telling her, 'We won't leave you here to burn. We're gonna get you out of here,'" said Zach Miller, of Hurley, Miss.
A cement truck carrying water stopped. While the mixer poured water into the car to keep the woman from burning, they were able to pull the vehicle out of the woods. Good Samaritans used crowbars to pry open the burning vehicle enough to rescue the driver.
Mississippi Highway Patrol spokesman Ben Seibert said police didn't witness much of what happened but are grateful for the efforts of the motorists. "We greatly appreciate those who stopped because sometimes there are accidents when nobody stops," said Seibert.
The airlifted driver is in stable condition at Gulfport Memorial Hospital with serious head trauma. Injuries of this type are life-threatening. The passenger in the back seat suffered minor injuries.
How many times have you drove past a similar scene without stopping to offer help. These two women would have perished if the first two Samaritans did not stop.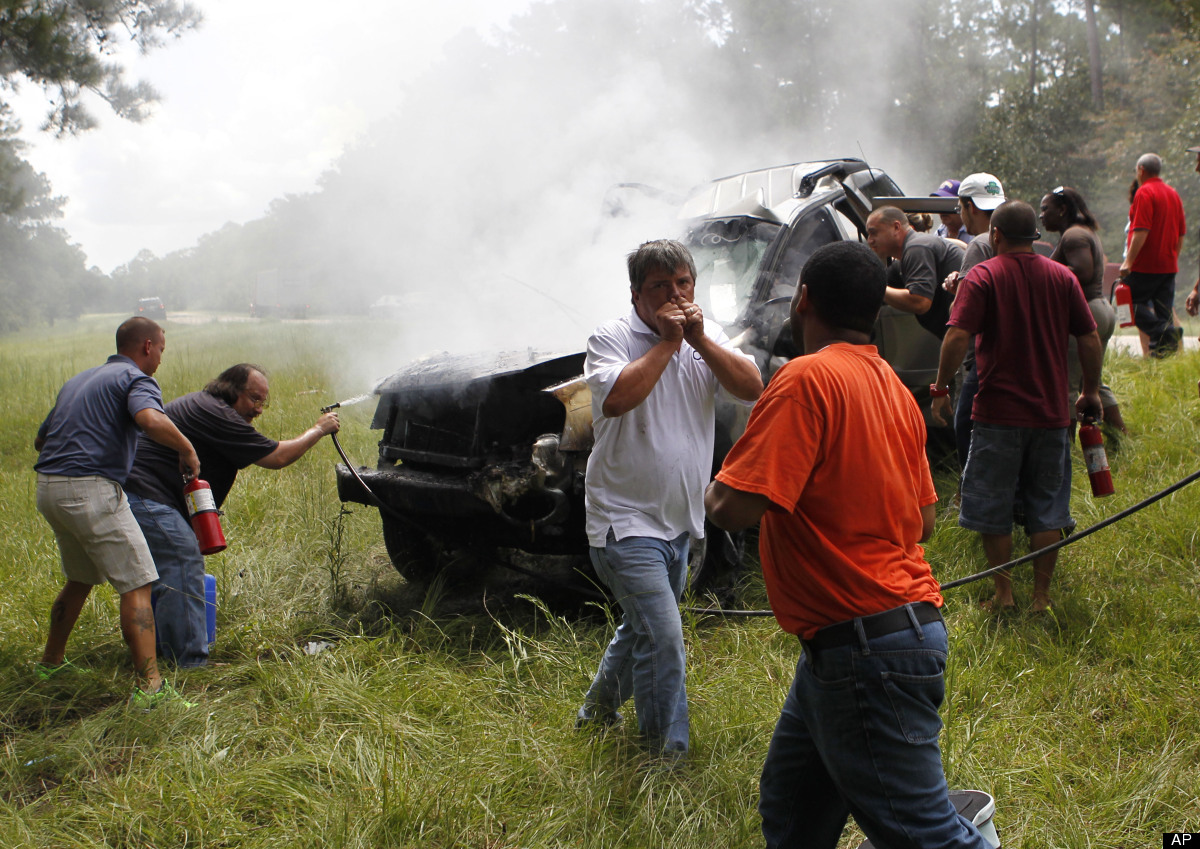 (AP Photo/Gerald Herbert)