Did Crystal Wilson really take her own life? The disturbing 911 recording at the bottom of this post is the actual call made by Florida detective Phil Toman, the woman's boyfriend. It appears that there was a sort of domestic squabble, but it all got out of hand and now the only side of the story to be heard is that of the man who sounds far too cool and collected while his girlfriend died. Police are quick to say that her cause of death was a "self-inflicted gun shot," but what if they're not right?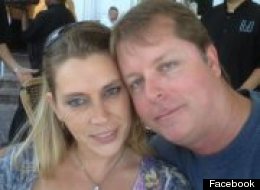 Suspicion being cast in the comments on this Huffington Post article is for good reason. The 911 call made by the boyfriend of Crystal Wilson just reeks. The man is calm, deliberate and far too nonchalant about the situation for it to all be as cut and dry as this. In fact, there is at least one time when he stops talking (calmly) to the dispatcher to yell at the woman who allegedly had just shot him and was wielding another gun. The transcript of the entire call can be found here if you don't want to listen to the recording, however, the recording conveys the man's lack of emotion and amazing collected nature during this entire ordeal.
Crystal can be heard crying while he's screaming at her to unlock a door. At some point the door is unlocked while he tells dispatch that she shot him in the left leg. She could be heard saying "I love you and I'm very sorry."
Things get a little mixed up when suddenly he says he heard a shot in the backyard and he says calmly:
"God, I hope she didn't just shoot herself."
Pay attention to all the details in this case. Things just don't feel right upon listening to the below recording. If she did really kill herself after shooting her boyfriend in the leg, then what caused it? What kind of fight brought this on? It seems like there was something horribly wrong going on before this woman shot him and then herself, if that's what happened. Listen to the transcript below:
Photo: Huffington Post
Crime analyst and profiler Chelsea Hoffman can be found on The Huffington Post, Chelsea Hoffman: Case to Case and many other outlets. Follow @TheRealChelseaH on Twitter or click here to contact Chelsea directly.