The atheist group Freedom From Religion Foundation wants Texas schools to stop displaying bible verses during football games. One school in particular, Kountze High School, is an offender of this constitution-bending display of religious promotion. Cheerleaders hold up banners depicting verses from the bible, and football players burst through the paper in a grand display of religious showmanship and performance art of sorts.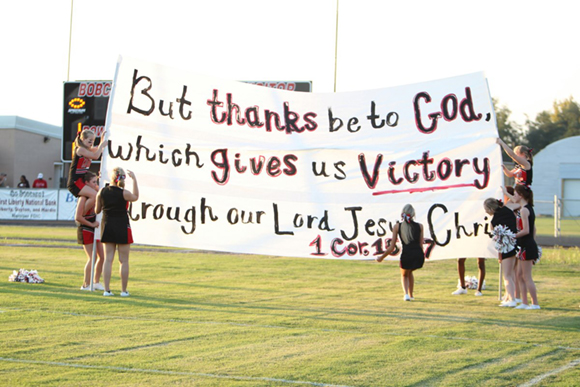 The Liberty Institute, on the other hand, is interfering with the progress being made by the FFRF, and is hindering the removal of these banners -- therefore allowing the cheerleaders to continue promoting religion as representatives of the public high school in Kountze. This groups (the Liberty Institute) is bullying the school system, who originally sided with the constitution and banned the bible usage in games as what was being done.
The atheist group wants you to stand with their cause and phone or contact the superintendent of the schools in the region and thank him for supporting the constitution and not backing down against the bullies with the Liberty Institute. The use of bible verses during public school football games is nonsense.
Photo: Freedom From Religion Foundation
Crime analyst and profiler Chelsea Hoffman can be found on The Huffington Post, Chelsea Hoffman: Case to Case and many other outlets. Follow @TheRealChelseaH on Twitter or click here to contact Chelsea directly.