Chris Kyle and his friend Chad Littlefield were shot multiple times at close range by suspect Eddie Ray Routh according to Erath County Sheriff Tommy Bryant.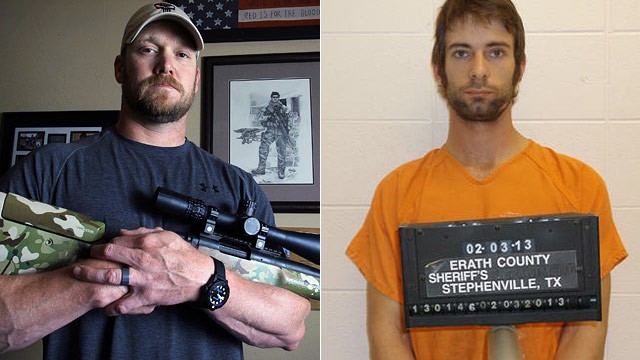 Knowing how Kyle was a recognized war hero and survivor of the Iraq war for four tours makes the likelihood he was killed at close range a shocking surprise. But who can watch their back all the time? And since he was known to help other veterans so willingly, one can see why he would let down his guard when a mother asked him to help her son.
The Rough Creek Lodge shooting range was the scene of the crime, which the Texas sheriff says appears to have been visited for the first time by the three as a group on that day. And he said that although the crime is believed to have happened soon after they arrived there at 3:15 p.m., it wasn't until around 5 p.m. that a hunting guide found the two bodies of the victims killed.
The suspect, a former Marine and unemployed war veteran from Iraq and Afghanistan is being held on $3 million bond, and jailors at the Earth County Jail are keeping an eye on him, as he is not in general population. But he is not on suicide watch. Routh may have been receiving help from Kyle for a post-traumatic stress disorder, and it makes sense that jail employees would want to keep him out of general population for that reason. But they also need to consider what kind of threat he might be to other inmates, too. And of course they will want to watch him to see if he acts like someone who has PTSD, since that could impact their investigation into the murders of Kyle and Littlefield.
The sheriff says that Routh used semi-automatic handguns in the slayings of Kyle and Littlefield, and that of course brings the country's gun control and gun violence debate back center court, where gun ownership opponents want it. But this is such a sad way for the lives of three former veterans to end without someone having to try and use this as their latest gun control battle cry for heaven's sake, especially when the victim Chris Kyle was as adamant about gun freedom as the next guy, saying so recently at SHOT 2013.
And he likely wouldn't be changing that position now either, since it was his decision to go shooting with the PTSD sufferer. And isn't it his right to choose who he trusts with a gun, even if they kill him? Or does the government get to decide that too?
Photo by The Fort Worth Star-Telegram/Paul Moseley, AP;Erath County Sheriff's Office