French kissing is a fun way to exchange feelings, spit and germs—and yes, sometimes drugs. However, the person you kiss shouldn't be related to you. It seems that Kimberly Margeson and her 30-year-old son William Partridge weren't aware of this universal social rule. Now Kimberly is charged with third-degree criminal sale of a controlled substance, second-degree promotion of prison contraband and no charges stemming from the incestual kiss—which must only mean it's not illegal to make out with your adult children.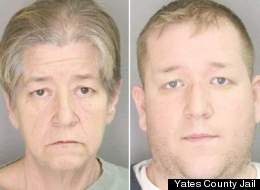 Eww.Just.Eww.
Margeson is accused of passing two Oxycodone pills to 30-year-old William Partridge while french kissing him during a jail visit. As the Huffington Post points out, "A mother's love knows no bounds," and Margeson and Partridge more than displayed that.
Drug addiction is an ugly thing that usually makes the sufferer do things they wouldn't otherwise do. Addicts are slaves to their vices, and harsh drugs have been known to turn users toward lives of crime such as theft and prostitution. There aren't many details available right now, but maybe Kimberly's reason behind doing this was out of her motherly devotion to her son. Perhaps he claimed to be in extreme pain and fed her such a sob story that she had no choice but to slip him some tongue in order to deliver the painkillers.
On the other hand, it's also possible that this mother-son duo are no strangers to crossing those very real and very important boundaries. If that's the case, then eww..just eww...
Photo: Huffington Post
Chelsea Hoffman is a candidly opinionated crime analyst with a lifelong interest in criminology and activism. She also owns 'Girl Nerdology' and is the author of several fiction stories. Follow her on Twitter @TheRealChelseaH or email her privately through Chelsea Hoffman: Case to Case.