Best friends Aaron Arias, 19, and Jamal Harris, 17, thought a woman was "attractive" in the back seat of a car, but as they were driving, they noticed that she was distressed and mouthed "help me" to the boys, who called 911 and followed the vehicle in Texas until she was rescued.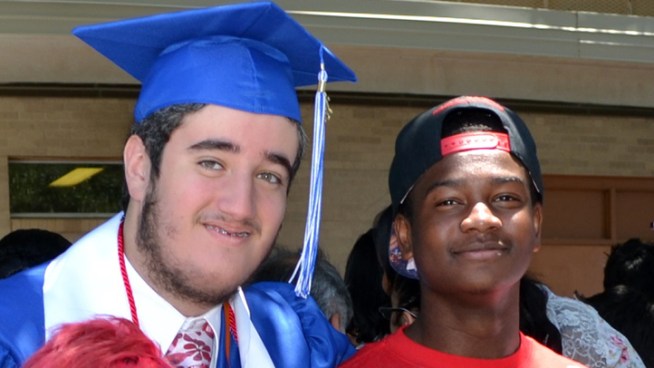 Jamal Harris said that after noticing the woman, the pair saw something was wrong, as reported yesterday by Marie Saavedra of WFAA.
"And then we made eye contact, and I see this serious expression on her face. What she was trying to say was serious," Harris said. "And I read her lips and she was like, 'help me.'"
Charles Atkins Lewis Jr. was arrested after police caught up with him and the woman, 25, was unharmed. Lewis had hit her on the head with a weapon and forced her into her own car before driving away.
These teens, who have a common interest in comic books and even have matching tatoos, are an inspiration. They followed their gut and saved a stranger!
They are true heroes.
Once the kidnapped woman was free, she gave the teens a big hug. Aaron Arias said,
"I would describe it as the best hug I have ever gotten."
The story is reminiscent of another recent kidnapping attempt thwarted by a pair of quick-thinking teens. Temar Boggs, 15, and his friend saved Jocelyn Rojas, 5, who was lured out of her yard by a man offering her ice cream in Pennsylvania, as reported by wptv in what should have been a major news story. It seems that the perpetrator is still at large in that case, sadly. Temar's account of the incident reveals a humble teen who went out of his way to find a little girl, who rode with him on his bike home after she was released by her kidnapper, who was followed by the teens on their bikes.
Watch the local news report of the heroic teens' account of the kidnapping and rescue in Texas here:
Image Source: www.nbcdfw.com
Follow Renee Nal on Twitter @ReneeNal and Facebook.
Check out her news and political commentary on Tavern Keepers, Liberty Unyielding and the Examiner for news you won't find in the mainstream media. Renee is also a guest blogger for the Shire Blog.