Johnson and Johnson has recalled 200,000 bottles of Infant Motrin because of bits of plastic may be mixed into the medication. Thankfully, it seems like it's nothing to panic about so far. The plastic pieces were found in another product that is made in Johnson and Johnson's McNeil unit. They're not actually sure if the plastic, PTFE, a plastic also used in Teflon coatings, is in the medication. Why is that stuff even near the medication? They say the ibuprofen comes from a third-party distributor so they issued the recall to be on the safe side. Good idea since it's for infant medicine.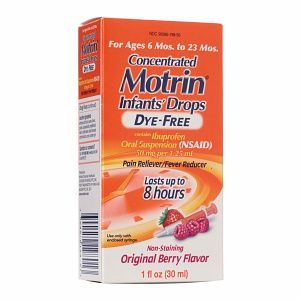 The specific things you need to look for are:
'Original Berry Flavor' on the box, label or bottle.
Half ounce bottles
Lot numbers-DCB3T01, DDB4R01 or DDB4S01
If you have any bottles that match the recall, do not use the product and call 1-877-414-7709 for a refund. There have been no injuries or illnesses reported.
ABC News says in "2013 alone, J&J has recalled: millions of oral contraceptive due to flawed tablets, Adept hip implants that were failing and had to be replaced prematurely, OneTouchVerioIQ blood glucose meters that shut off rather than issuing a warning when blood sugar levels get dangerously high, Children's Tylenol made in South Korea that contained too much acetaminophen and versions of K-Y Jelly personal lubricant that potentially never got required regulatory approval."
Johnson and Johnson has been a trusted provider of care products since 1886, but now Infant Motrin is recalled? This is totally unacceptable. If they are recalling this many products in such a short period, something needs to be revamped. What about government supervision and regulations? They already had to close their main manufacturing plant in Fort Washington, PA. after too many recalls involving children's products.
If you are a parent, be sure to check the Consumer Product Safety Commission (CPSC) monthly for recalls and safety warnings.
Photo credit: DS-Static